What do you do when you're a housewife raising four kids and you suspect your husband of cheating on you? If you're also Mormon and it's 1954, the answer is: have another kid! And then another…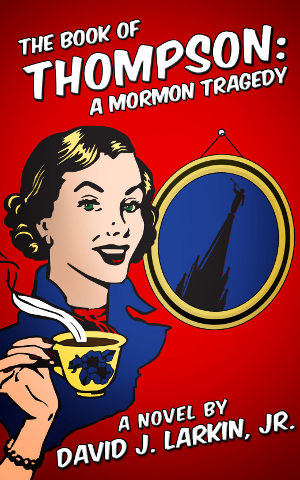 The Book of Thompson tells the story of three generations of the Thompson family. The title comes from the charming Mormon tradition of writing books of your family's history and distributing them to all your relatives. If you come from a Mormon family, you might have such a book sitting on your bookshelf, like the Thompsons. I have several myself.
Most of the story is told from the perspective of little Bobby who is the third kid in the Thompson family (or so he thinks). He's naturally focused on childish adventures like building tracks for marbles and listening to records — at one point he embarks on an elaborate project to try to convert the Queen of England to Mormonism until his exasperated family gets tired of humoring him — but he can't help but be affected by the family's problems even if he doesn't always understand. Read more
Various Amazon reviews: This book was a real page-turner. Nicely written and with a good pace that kept me interested right to the end.
Larkin Jr. opens a window onto Mormon religion and culture through the eyes of a very special child. Bobby's quest for the truth brings both delight and disallusionment in the family values into which he's been initiated during these tender years. Most touching is the relationship between mother and son, and their mutual understanding that they must forge their own unique paths. Bobby's adventures, heartaches,internal struggles, and incessant questions compels readers to be unconditional cheerleaders for his happiness.
A very nicely written story about a Mormon family and the problems they face told mostly from the point of view of a young child. Gives some interesting insights into their way of life back in the good old days.
The Book of Thompson is a realistic literary novel about the intertwining lives of Mormons living in eastern Washington State during the mid-twentieth century. The author, David Larkin, has created well-drawn, distinctive characters who tell his story through their varying viewpoints. The most compelling is the central character, seven-year-old Bobby Thompson, whose first person narration is highly observant and at times poetic, yet it never loses the voice of a child. A wonderful first novel from a gifted author.
I really enjoyed reading this book. It was alternately funny, tragic and respectful. It's not the type of book I normally read I'm a historical fiction - 900's-1600's and fantasy reader with some science fiction) but I'm glad that I read something so far out of my usual literary genre. Read more