It's spring of 2010 and Matt Ryan is now running a private detective agency with the help of his lapsed Mormon assistant, Carrie Zimmerman. The work is steady but tedious. That is, until another lapsed Mormon, Annie Christiansen, hires Ryan to investigate her estranged husband's murder. As a mutual attraction between the Ryan and his new client smolders, he is drawn back into the LDS community, this time in pursuit of a serial killer. The chase takes Ryan and Carrie to Utah where they encounter a web of patriarchs and prophets, blood oaths and second anointings, along with other ghosts that conjure up from the Mormons' colorful past.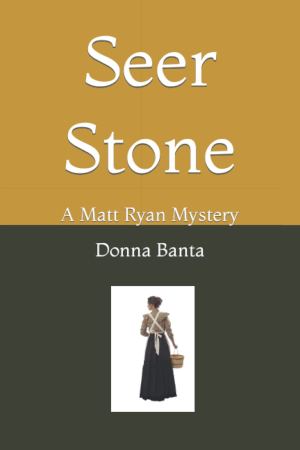 This book is full of all sorts of colorful characters of Mormonism — from "ex" to mainstream to fundamentalist — coming together in sometimes hilarious ways. It's an entertaining visit to the multifaceted world of LDS culture (without being pro or anti or pedagogical as Mormon literature often can be).
And the LDS fun isn't the only draw. It's an engrossing murder mystery that keeps you on your toes. I remember one fun twist in particular that I didn't see coming, but seemed obvious in retrospect — just as an interesting puzzle should be. Read more
Seer Stone by Donna Banta is available on Amazon.